Nintendo Switch Online: ora disponibile il set 4 delle icone di Xenoblade Chronicles 3
19 Agosto 2022
0
0
Read Time:
1 Minute, 56 Second
---
Nintendo ha recentemente pubblicato il set 4 delle icone profilo di Xenoblade Chronicles 3, ora disponibili nel servizio legato all'app di Nintendo Switch Online.
A partire da questo momento sarà infatti possibile ottenere in premio delle nuove icone utenti, sfondi, personaggi e cornici riguardanti l'universo di Xenoblade Chronicles 3.
---
Missions and Rewards added to Nintendo Switch Online
Have you checked out the Nintendo Switch Online* section on your Nintendo Switch system lately? With the recent update, you can now earn My Nintendo™ Platinum Points** by using the Nintendo Switch Online service. You can then redeem your Platinum Points for exclusive rewards, including icon elements you can use to create a new look for your user icon!
Exclusive missions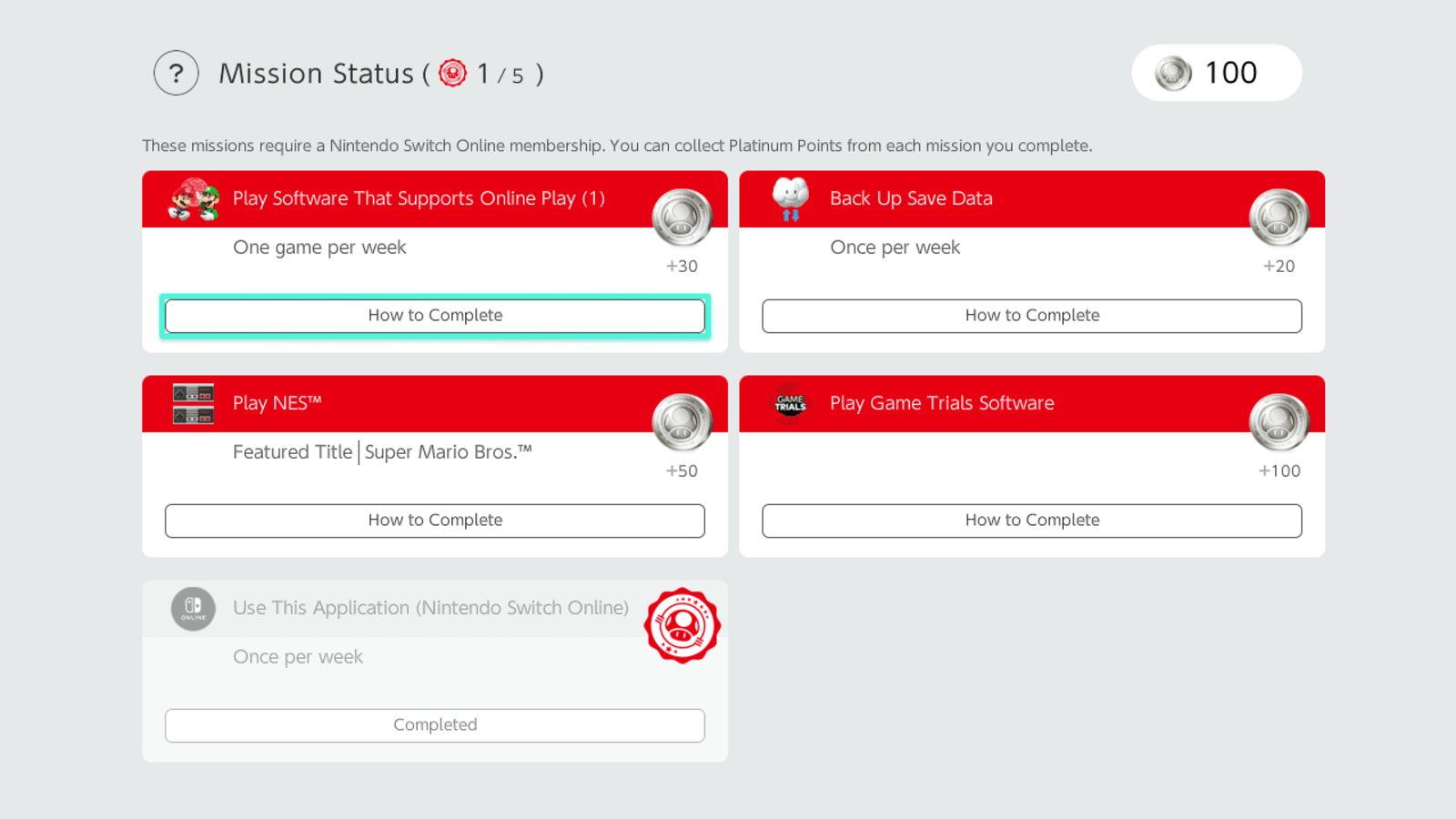 Visit the new Missions & Rewards section of the Nintendo Switch Online app on your Nintendo Switch System. You'll find a list of missions you can complete simply by doing things you're probably already doing with your Nintendo Switch Online membership, like playing online or trying out the library of classic games. Sound easy? It is!
Fun rewards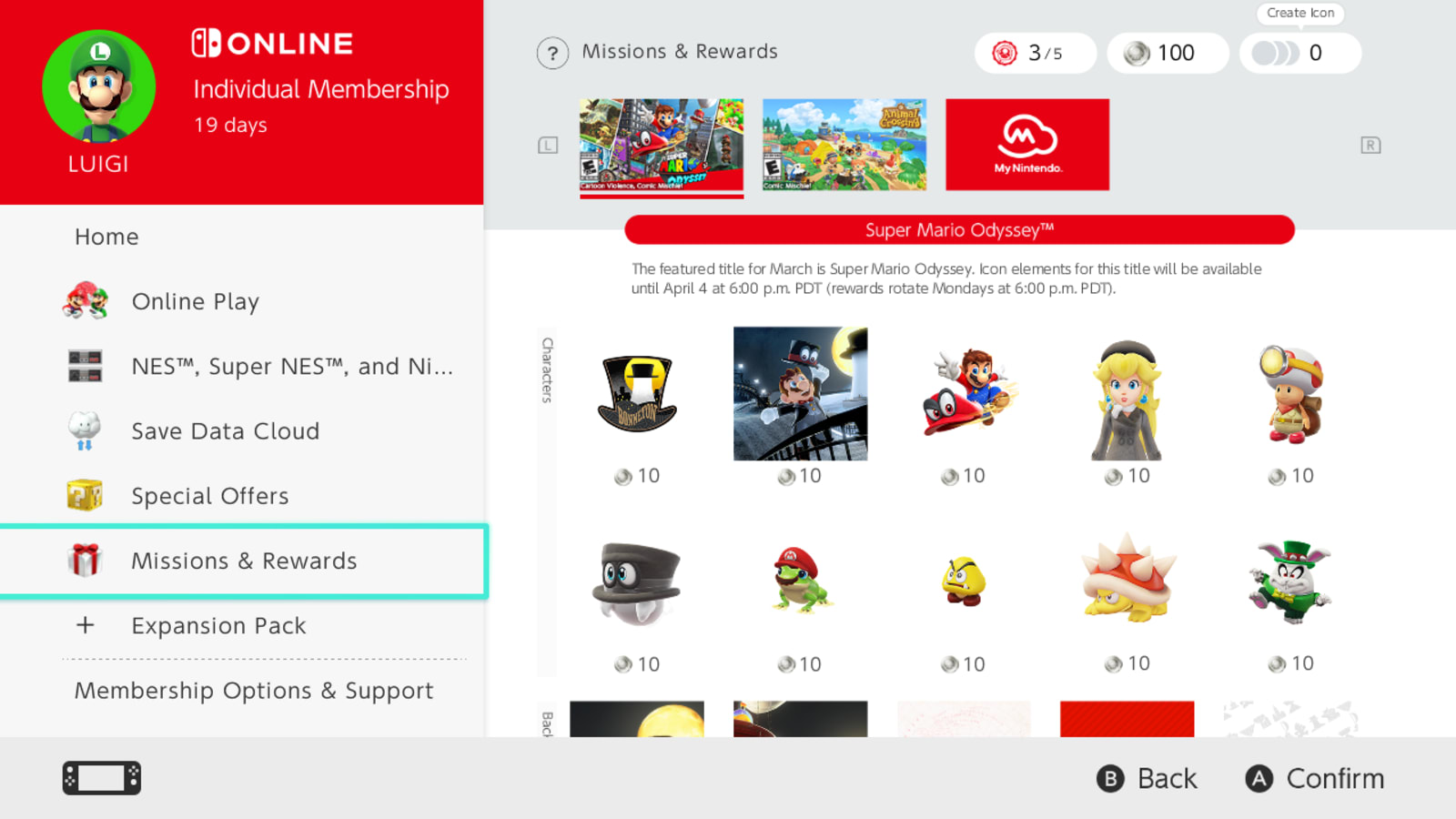 After you've completed one of these missions, just head back to the Nintendo Switch Online app to collect your Platinum Points, which you can redeem for digital wallpapers, physical items from the My Nintendo Store, and new member-exclusive icon elements you can collect and put together to create a new user icon.
Introducing icon elements!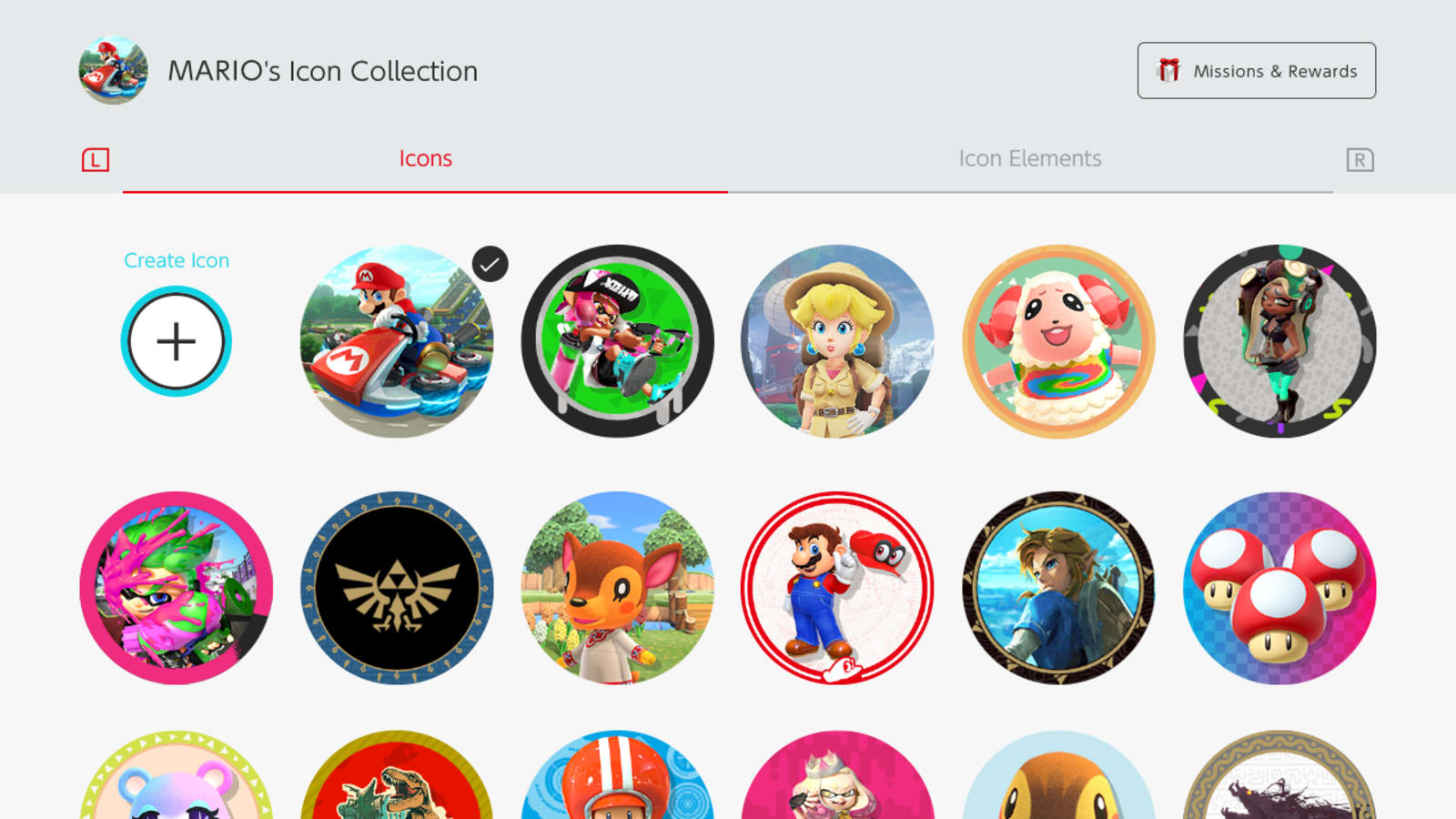 One of the new features in the latest update for the Nintendo Switch Online app is the ability to redeem Platinum Points for elements for your user icon. You can get frames, characters, or background elements to create your own user icon that can be seen by other Nintendo Switch players when you're online. Each month will have a different theme and icon elements will be refreshed each week, so be sure to check the Nintendo Switch Online app on your Nintendo Switch system so you don't miss any!
Available until 4/3:
Animal Crossing ™: New Horizons (March birthdays) and Super Mario Odyssey™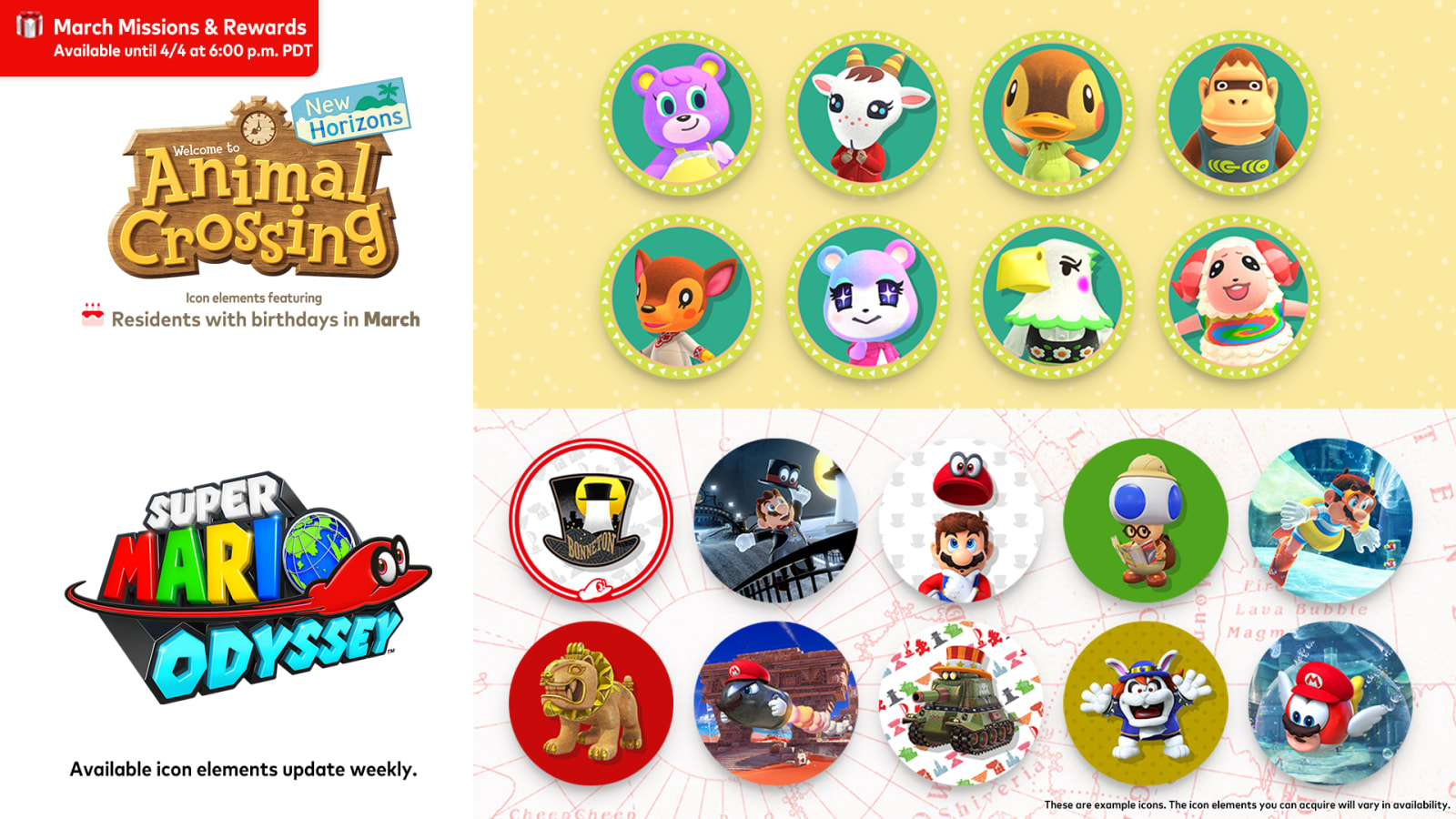 Learn more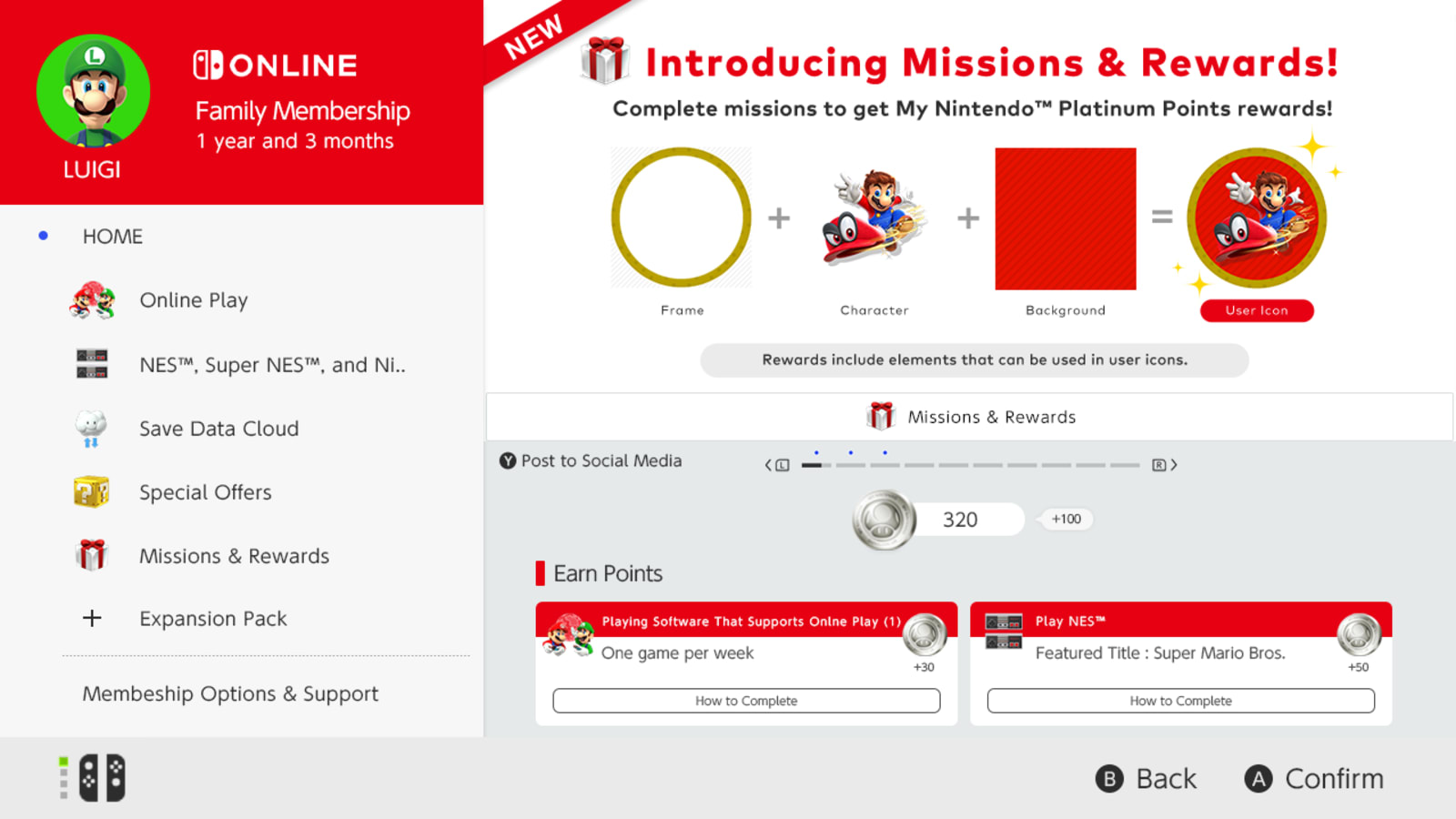 Want to learn more about missions and rewards? Just make sure your Nintendo Switch system is updated, then click on the Nintendo Switch Online icon on the bottom of your HOME menu to get started.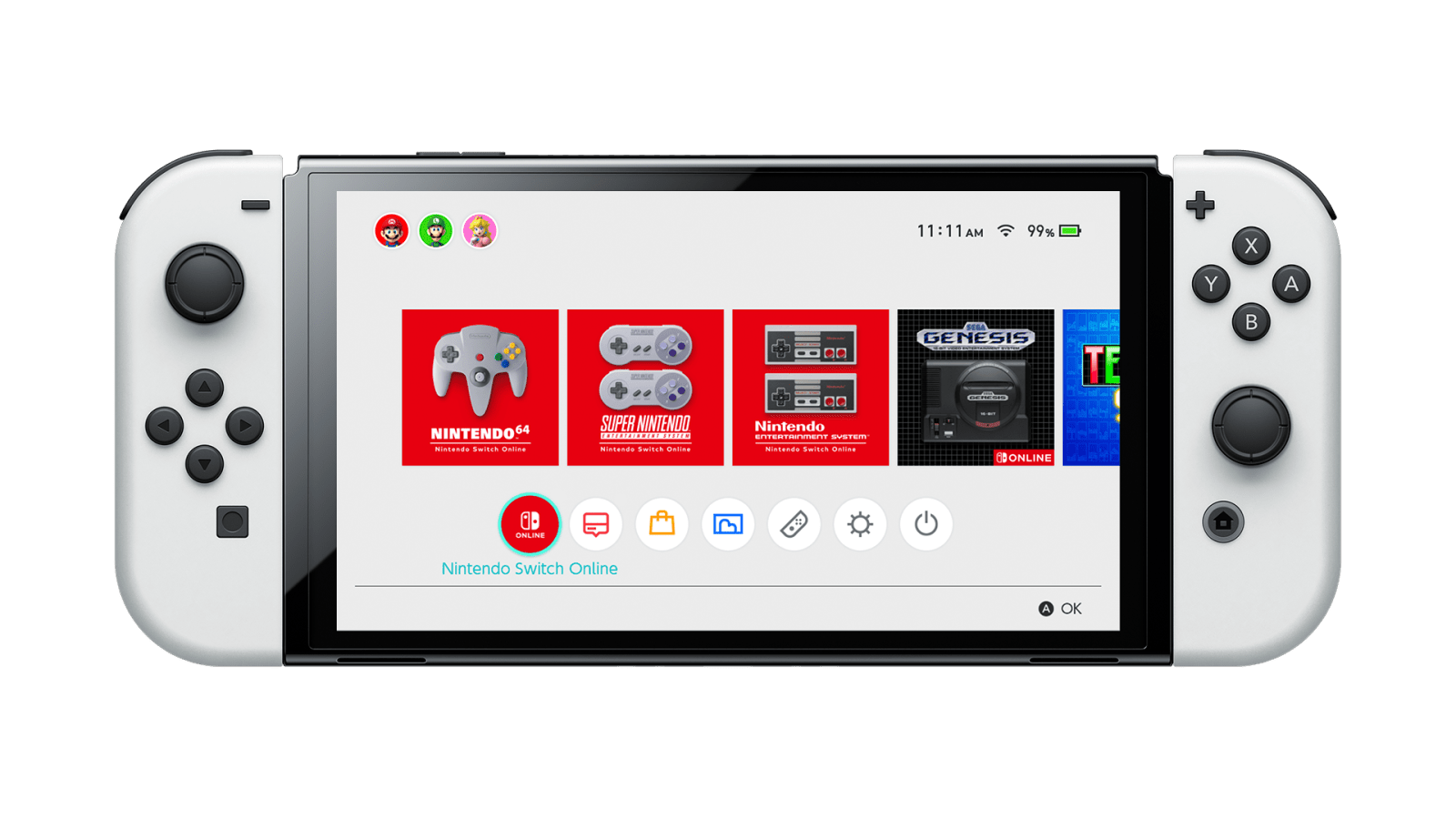 Potrebbe anche piacerti
24 Marzo 2023
20 Aprile 2023